Alicia & Cabe: Fun, fun fun!
Alicia and Cabe hired me 5 days before their wedding day because they had done all of the work but then realized that they needed someone ELSE to be in charge on the Big Day! They are a fun, honest, hilarious couple who planned an amazing wedding for their family and friends.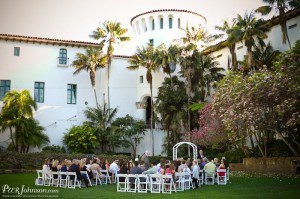 The ceremony was held at the historic and picturesque Sunken Gardens outside of the Santa Barbara Courthouse and had a beautiful arch & guest chairs provided by the Tent Merchant. Tent Merchant arrived on time and set everything up professionally and efficiently. The bridal party walked down the aisle to a live violinist, Leslee Sipress. The ceremony, led by officiant Rich Tobin, was brief and charming. After the ceremony, the bride & groom snuck away to the beach for a private session with their photographer, Peer Johnson.
The guests then moved to near-by Canary Hotel for the rooftop cocktail hour & reception. Lighting remained from an event the previous night so the bride & groom had a great bonus! The string lights & large paper lanterns were beautiful and created a truly special feeling to the space. The tables were named after the couples' favorite TV shows which was so fun! The florals by Alpha Floral were bright & cheerful which added to the fun, intimate atmosphere. It was such a pleasure to be a part of Alicia & Cabe's wedding and am so glad that they found me just a few days before their wedding on craigslist, no less! It just goes to show, it's never too late to hire a day-of coordinator!
Good luck, you two love birds!