Tra-la-la: Live Musicians – the Real Story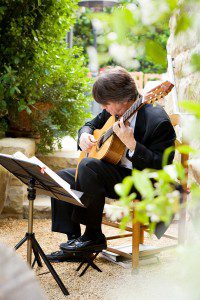 There are four pieces of the "typical" wedding that will require music: the ceremony, the cocktail hour, the dinner hour, the reception. The music during your Big Day is a wonderful way to express your personality or your heritage! If you're of Scottish heritage, have a bagpiper play when you walk down the aisle. If you're of Mexican heritage, have a Mariachi band play during cocktail hour. If you are of Irish heritage, have a fiddler play ballads during dinner hour. Or you can always have the above types of music (bagpipes, mariachis, Irish balads) can always be played on an iPod or by a DJ as well.
So… what is the benefit to having a live musician(s) versus an iPod/DJ?
If you want live musician(s), consider the following:
~ They may require an armless chair, umbrella (if outside), a meal, parking paid
~ They require a 15 minute break for each hour that they play
~ They stop between songs to confer with each other, turn pages, etc.
~ You will have to deal with personalities, egos, requirements, demands, and special circumstances
~ You will need someone to coordinate the live musicians to play when different parties walk down the aisle (if they are playing during the ceremony)
~ You will need someone to coordinate the musicians' breaks & meals with the flow of the evening
Having live musicians play at your wedding at any point during the event definitely gives the event a feeling of elegance and pomp.
The average sound system for an iPod costs around $200+ and you will have to designate someone to play the iPod.
Depending on your package with your DJ (if you hire one), the additional charge for ceremony, cocktails & dinner hour will vary
Live musicians start at $100+ per hour per musician with a minimum number of hours required