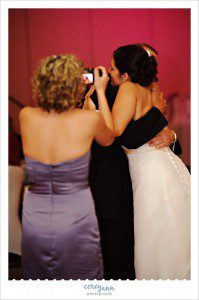 I saw this article in the Huffington Post Bridal Guide and thought that it was BRILLIANT! The author, photographer Corey Ann, an internationally recognized photographer from Northeast Ohio shares this awesome perspective on unplugging your guests from their cell phones & cameras so they can plug in with their hearts!
While some couples encourage their friends and family to snap as many photos as possible throughout the day (they're even signing up for apps that make it easier to compile everyone's photos in one place!), others are asking their guests to shut off their camera phones for the day. There are strong arguments on both sides — there's something so special about seeing your wedding day unfold from your guests' perspectives, but photographers have noted that "guest photographers" often compromise your professional pictures.
Last year, one of my friends got married, and I was so thrilled to be her photographer that day. What was even more amazing was that she had an "Unplugged Wedding," after seeing pictures and reading my rants over the years about well-meaning guests whom have inadvertently (or heck, even completely on purpose) ruined images.
Prior to the ceremony, the officiant read this: "Welcome, friends and family! Good evening, everyone. Please be seated. Dan and Jennifer invite you to be truly present at this special time. Please, turn off your cell phones and put down your cameras. The photographer will capture how this moment looks — I encourage you all to capture how it feels with your hearts, without the distraction of technology. If Dan can do it, then so can you." I can't tell you how many happy leaps of joy my heart did when reading this!! The guests all obeyed, and even after the ceremony, many decided to keep their arms down and their hearts open and enjoyed the day, instead of being an observer from behind their cameras.
Recently, "Guest Photographers" came up in one of the photography groups I am a part of online, and someone asked what the big deal is; why wouldn't we want more people capturing images for our clients? I thought this was a great question! I don't have a single problem with guests taking images and sharing them later on with the couple. It makes me happy to know there will be other pictures and photos of moments I may have missed or alternate angles that I couldn't cover. I also completely understand that some have a love for capturing images and enjoy taking pictures at weddings they attend.
However, my heart literally breaks when a guest ruins an otherwise lovely image or jumps in front of me when I'm capturing a key moment from the day. It completely slays me when this happens because, while I am not remotely egotistical at all, I am fairly confident that my image would have been better than the one they captured. In the past six years of being a professional wedding photographer, it's also been sad to watch the progression from seeing smiling, encouraging and happy faces as the bride is escorted up the aisle to faces hidden behind the backs of cameras and cell phones that line the aisle. These are all reasons why I am elated when I hear of couples opting for an Unplugged Wedding — or, at the very least, an Unplugged Ceremony.
I also want to add this: if you are a guest at the wedding, please make sure to withhold posting pictures of the bride and groom online until after the ceremony. I can't tell you how many "First Looks" have inadvertently happened online before the wedding because a bridesmaid or groomsman uploaded pictures to social media before the wedding and a bride or groom, killing time by browsing Facebook, saw their future intended before the ceremony. Don't do it!!!!! Also, make sure with the couple that it is OK to share the images on social media; sometimes people prefer to keep things quiet due to varying factors, and you don't want to cause undue stress.
One thing there is absolutely nothing I can do to combat is a flash from a guest photographer's camera. There is rarely anything that will save the image, and no repositioning will change the outcome: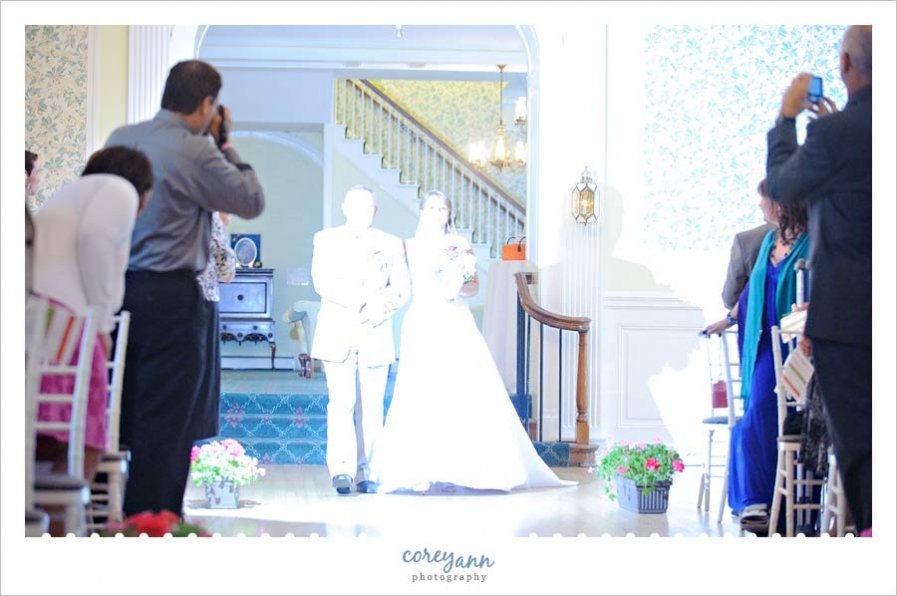 There is WAY more good stuff in this article so click on over to Huff Post for the rest… ENJOY!
And please consider having an "unplugged wedding"… it could be the best thing that you AND your guests could have asked for!