Props can make photos FUN!
When you put photos on display in your home or office, you choose the best ones, don't you? You choose the funniest ones or the ones that best tell the story, right? You choose the ones that make you smile and think back to that moment and what a great time you had, right? One of my favorite photos in my home is my two best friends and I dressed up for the Summer Solstice Parade in Santa Barbara with flower wreaths in our hair, silly eye lashes and colorful outfits! When I meet with brides, I tell them, "I only look at 10 of my wedding photos! They are in a frame in my hallway and I look at them every day when I walk by. I'm reminded of what a great day that was… but where they heck are the other 200+ photos?! Sitting on a DVD somewhere, I'm sure." So when you are planning for your special day, think of some of the photos that might make you want to look at them every day when you walk down your hall or when you glance across your desk at the framed photo you brought in.
A few tips: Be yourself! If you're a goofball, take some goofball pics! Don't pretend like you're being prim and proper just because it's your wedding day. The more photos that you have of you being natural and comfortable and fun, the more amazing photos you're going to have to choose from! Here's a shot of my crazy friend, Colleen with her new hubby Steve, after their destination wedding in Hawaii – this is Colleen being Colleen – aren't they cute?!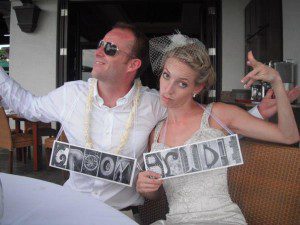 Use the moment! For example, think about your Thank You cards – and take a moment to take a cute Thank You pic when you're in your white wedding dress with your new hubby! Caryn & Mike took the perfect Thank You shot in the vineyards of Gainey Winery…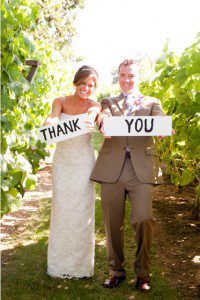 Make it all about YOU! These days, wedding photos are all about the details. But I'm not talking about the tired ol' monogrammed napkins and themed place card holders – which almost no one notices, by the way… I'm talking about fun ways to show your personality – through apparel choices (shoes, accessories, etc.), wedding favors (your favorite taffy from Pismo Beach?), or even custom pillows for the benches at the cocktail hour (that you can take home with you and use in your home forever!)… the sky is the limit! Here is a great example of Casey & Alyssa's colorful personalities displayed in a very sweet, subtle way and the pics are TOO CUTE!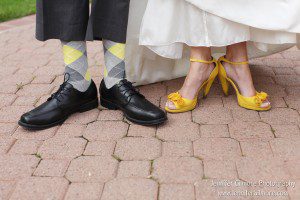 Have fun with your Big Day! The pics will show it…