Pinterest = Bride's Best Friend
Have you heard of Pinterest? Or do you live in a cave? Ok, maybe I'm assuming a lot but if you're planning a wedding, you NEED to know about Pinterest. The website is http://pinterest.com/. According to the website: "Pinterest is a Virtual Pinboard. Pinterest lets you organize and share all the beautiful things you find on the web. People use pinboards to plan their weddings, decorate their homes, and organize their favorite recipes. Best of all, you can browse pinboards created by other people. Browsing pinboards is a fun way to discover new things and get inspiration from people who share your interests. To get started, request an invite."
I have been pinning things like made both for personal purposes and for my amazing brides! I usually love the details that a bride can do herself and have her coordinator set up on the Big Day.
Here is a screenshot of what my Wedding Ideas Board looks like (I also have a Wedding Flowers and Wedding Desserts & Cakes Boards)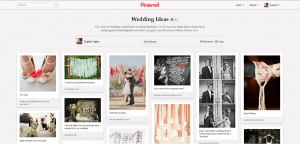 Click image below to

If you're a bride of mine and are already on Pinterest, please follow me as I may be finding super-cute ideas for you and can then tag you just like on Facebook (with an @ sign)!
I've been super-inspired by some of the ideas that I've pinned – I hope that you have a similar experience! Happy planning…