Bridal Party: The "Guys' Role"
As a day-of wedding coordinator, I often meet my brides and grooms just a few months or maybe weeks before their wedding. So their bridal party isn't part of my planning process. However, here are some words I have for my groomsmen & best men:
This is NOT your wedding day – it's your buddy's day and he's asked you to be part of it. It's not about you – it's about HIM and his soon-t0-be-wife.
During rehearsal, please pay attention – the faster we get through 2 run-throughs, the faster you get to the bar
Please be on time
Please don't drink too much – this is your buddy's ONLY WEDDING DAY, please don't make it about you passed out on the cake table
Please be respectful of the guests – if you love to break dance, please wait until Grandma Ruby has gone home for the night so you don't take her out
Role of Groomsman/Usher
Groomsmen are usually 16 years of age or older, junior groomsmen would be 8 to 15 years of age. When choosing groomsmen, it's tempting to choose your closest friends – and YES, this is who you should think of first. However, consider a few things before "popping the question" to them:
Is he responsible? (Can they handle the responsibilities of a groomsman, see more info on this list below). If the answer to this question is No, then the Groom may not have a good bachelor party, he may show up to the altar with booze on his breath, or he may not get to the altar on time (or at all)…
Is he being asked because we REALLY want him in the wedding or because we feel obligated? Explore this answer as a couple… hurt feelings is one of the biggest dangers when planning a wedding.
Will he be a good representative for the bridal party at the ceremony & reception? (e.g., will he get super-drunk, will he be respectful of all guests, will he participate & be fun, etc.)
If you have answered the above questions and are thinking, "Hmmm, maybe he wouldn't be the best choice BUT we really want him to feel included!" another option is as an usher. An usher doesn't have to attend all of the pre-parties or wear the tuxedo or have any special responsibilities beyond welcoming and seating guests before the ceremony. Before and after that responsibility, he's just a wonderful friend who is invited to your wedding.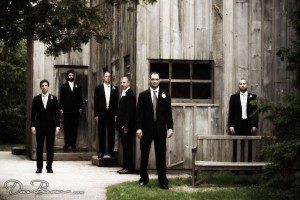 If you answer the above questions and decide that he IS a great choice for a groomsman, here is a list of your responsibilities as one of the male attendants of the wedding party:
Provide your measurements to the groom for the tuxedo/barong.
Pay for your transportation and/or lodging to and from the wedding city
Pay for your tuxedob/barong and/or shoe.
Attend pre-wedding parties, if feasible
Welcome guests to their seats before the wedding ceremony
Usher guests to their seats by: First asking if they are guests of the bride or groom. If they are with the bride, they should be seated at the left side of the church (facing the altar). If with the groom, then they should be seated to the right. Seating the eldest guests first if a large group arrives. Escorting female guests with his right arm with her escort walking behind, or leading a couple to their seat
Distributing programs to guests after they have been seated.
Balancing out the guests by asking arriving guests if they wouldn't mind sitting on the other (less filled) side.
After the guests have been seated, escort special guests to their seats in this order (unless otherwise directed by the bridal couple): general special guests, grandmothers of the bride and groom, groom's mother bride's mother
Position the aisle runner in place before the processional is ready to begin
Collect discarded programs and articles from the pews after the ceremony
Direct guests to the reception and hand out preprinted maps and directions to those who need them
Assist in gathering the wedding party for photographs
Participate in the garter toss, if single
Additionally, a head usher should be designated to coordinate the ushers, make sure they know their duties, know how to carry them out, know the proper seating of special guests, and know the order in which they should be seated. This role should not be taken on by the Best Man, however, since he will be too busy attending to the groom.
Role of Bestman
You and your older brother are as close as any siblings could be and now he has asked you to be his best man. The following list outlines your duties and responsibilities as the groom's "right-hand man":
Organizes the bachelor party
Holds the bride's wedding ring
Makes sure vendors receive their payments (unless there is a wedding coordinator/planner to do this)
Makes sure the groom is dressed and on time
Welcomes guests as they arrive at the ceremony location
Offers the first toast to the bride and groom at the reception
Witness the signing of the marriage certificate
Attend pre-wedding parties, if feasible
Pay for your tuxedo and shoe rental
Pay for transportation and/or lodging to and from the wedding city
Help the groom in any tasks or errands
Participate in the garter toss, if single