Large Space? Small floral budget? Think BIG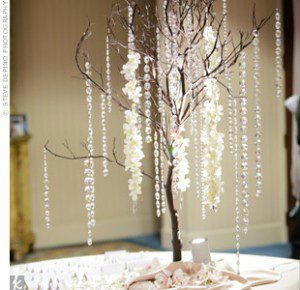 These days we are all on a budget, right? But more than that, maybe you are more than a little hesitant to spend a large portion of your small budget on centerpieces that are going to be given away or, ahem, die a few days after the end of the night. I was in a bride consultation the other day and realized that manzanita branches are a wonderful way to fill the space – you don't want your reception room to look "flat" especially if it has high ceilings or you have a large guest count. You (or your florist) can add as many flowers as you would like or you could put non-floral features on them – paper cranes? votives with candles? crystals (see photo)?, light-weight photo frames with photos of you and hubby? ~ The list is endless! And SOOO memorable. I mean, isn't that what the details of your wedding are all about: making it memorable and special for you and your guests?
Seriously consider renting the manzanita branches from a local florist before taking on the DIY project of buying, erecting, gluing/nailing, etc, etc., ~ this project could be a lot more than you bargained for and the time & materials that you might save renting them could save your sanity, in the long run. Also consider what you will do with them at the end of the night and beyond ~ who will transport them home? Are you going to sell them on craigslist (or another wedding items salesplace)? I'm all for DIY projects but SERIOUSLY consider the before, during and after efforts that DIY projects will take.
Manzanita branches could be the answer to your search for the perfect centerpiece for your wedding! If not, here are a few other suggestions from Martha Stewart Weddings.com. NOTE: The Tuscan Takeaway is my FAVORITE! I always thought that a "farmers' market-esque" centerpiece would be SO cool – and eco-friendly!